BABA'S RECORDINGS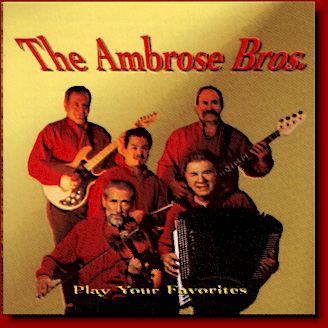 Steve, Glen and Ken Ambrose were born and raised at Rembrandt, Manitoba in the Arborg area of the Interlake Region.
They began their musical careers at an early age, taught by the best instructor around - "Their Dad" who was also a great violinist.
Albin Sobkowich hails from Hubbard/Ituna, Saskatchewan and started his musical career at an early age, mastering the violin.
Victor Sayer was born and raised in Winnipeg, Manitoba where he began his career playing drums and entertaining crowds around Winnipeg.
Together they now form THE AMBROSE BROTHERS BAND. Book them for your next event by calling Steve at (204) 338-2185.
Selections marked are sound samples.
If your internet connection cannot keep up with the stream of music you may experience playback interruptions. To avoid these you can "right-click" the sample selection, then choose 'Save Target As' to download the entire .asf file to your desktop from where it may be played offline without interruption using Windows Media Player.
Jim's Polka
Interlake Wedding March
R.J.'s Waltz
Willy's Polka
Reminiscing Kolomeyka
Hilltop Waltz
This Side of the Mountain
Kit Kat Polka
Steve's Polka
The Tobacco Song
George's Polka
The Winnipeg Butterfly Dance
Alberta Breakdown
Fraserwood Waltz
Hudson's Bay Breakdown
Today the band is well known thoughout Manitoba and gaining popularity all across Canada for their recordings. They are already a household name for countless faithful fans and listeners.
We are now proud to present to you some of the finest Polkas, Waltzes and songs for your listening and dancing entertainment.
BABA'S RECORDS