<![if !vml]>

<![endif]>†††
<![if !vml]>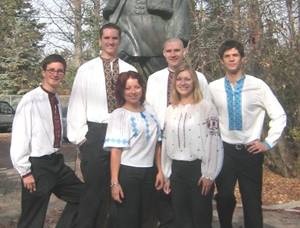 <![endif]>
The Canadian prairies have always been known as a land strong in Ukrainian Heritage. Ukrainian folk music can be heard in every town and city from Edmonton to Winnipeg.† Many Ukrainian prairie bands have played weddings, zabavas (dances), and socials for over a century, and their legacy continues to the present.† In their spirit, a new band has emerged to continue this rich tradition.
TARAN, the newest Ukrainian-Canadian music ensemble, creates its own path playing traditional Ukrainian folk music with passion, enthusiasm and intensity.
TARAN continues the tradition of song with pride, taking melodies passed on from family and the Ukrainian community.† They approach each performance with youthful energy, carving out a unique niche in modern Ukrainian folk music.
Melodic traditional polkas are delivered with intensity that will make you want to dance the night away. Skillfully arranged acoustic music and beautiful vocals define the typical TARAN waltz, a highlight in the groupís rich repertoire.†
Of course, no Ukrainian party or zabava can be complete without the kolomeyka.† Dancers beware, as TARAN is known for playing marathon kolomeyky with an energy level that must be experienced live.
All members of TARAN are between the ages of 19 and 25, are from in and around Winnipeg, and belong to various youth and dance groups in the Ukrainian community.
<![if !vml]>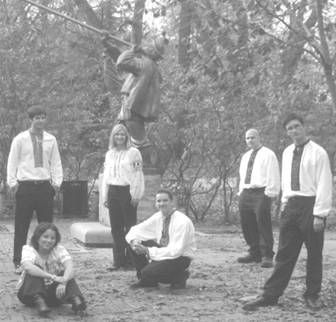 <![endif]>
TARAN consists of: Katrusia Basarab (Vocals, Violin), Mark Shawarsky (Vocals), Nancy Sedo (Accordion), Steven Sirski (Drums), Andriy Michalchyshyn (Guitar), Taras Babiak (Bass) and Dobryan Tracz (Acoustic Guitar, Vocals).
TARAN is currently working on its first full-length studio CD entitled, Moonlight, which will be available in May of 2005.† Before Sunrise, a 6-song CD-EP demo, was released in May 2004 and has received strong reviews and sales.† Songs from Before Sunrise have been played on many Ukrainian radio stations across Canada, including the Ukrainian Program (CKJS Winnipeg), Zabava Program (Edmonton), Zustrichi (Saskatoon) and Nash Holos (CHMB Vancouver).† TARAN has just completed a DVD which features live performances from 2004.
In the summer of 2004, TARAN entertained the crowds at zabavas at both Canadaís National Ukrainian Festival in Dauphin (July 30-August 1) and Folklorama (Ukraine-Kyiv Pavilion).† This fall, TARAN has performed at a Winnipeg Goldeyes baseball game, played zabavas in Calgary and Dauphin, and appeared on the A-Channel Big Breakfast television show.† A Winnipeg Convention Centre zabava night (a benefit for the Millennium Library Foundation) saw TARAN share the stage with the band, Shoom, the Ukrainian dance group, Rusalka, and the male choir, Hoosli.
In addition to Ukrainian polkas and waltzes, TARAN has a deep and diverse musical repertoire, including covers of the Oldies (Presley, the Beatles), Celtic-traditional (Great Big Sea, Spirit of the West), country (Johnny Cash, Kenny Rogers) and modern rock (Green Day, Bryan Adams).† With their skill and exciting stage performance, it is no wonder that TARAN is a favourite choice for playing weddings, social events or outdoor festivals.